MWR Life Expands To Over 100,000 Members Worldwide
May 7, 2020
By Team Business For Home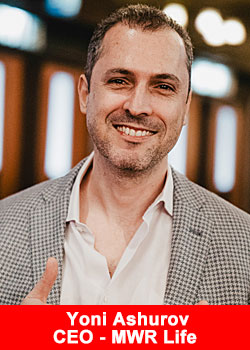 Direct selling travel company MWR Life announced on their monthly May CEO call that it now has over 100,000 members, achieving a significant milestone in the history of the company.
Founded in 2013 by CEO Yoni Ashurov, MWR Life has grown massively in the past three years. Tripling their numbers and expanding their boundaries to most regions of the world. At the beginning stages of their development, a majority of their members resided in the United States and France Regions. However, they have now developed major powerhouse Teams in France, Russia, Spain, Italy, Portugal, Peru, Brazil, and many more.
"We want to thank everyone for helping us reach this impressive milestone. We are incredibly proud of the fact that we continue to grow during such adversity.

This growth makes us even more excited about what the future holds for everyone in MWR Life as our vision of Making Wishes Real continues to expand."
says CEO Yoni Ashurov.
While the growth in numbers is impressive, that is not the only area of growth. MWR Life continues to improve the business-building tools, marketing videos, recognition, and compensation plan. But the development focus is always on the proprietary Travel Advantage™ booking engine. The latest release includes a Lifestyle Mall that provides access to thousands of designer brands and free worldwide shipping options for the member.
"Owning and having full control of the booking engine, product offering, and member experience makes MWR Life the obvious choice for anyone looking for a solid business opportunity.

Eliminating the expense of third-party travel vendors provides our company with security, stability, and flexibility. Anyone who wants to build a long term business should only join companies that own and have complete control of their product or service."
says MWR Life Senior Vice President Kevin Albright.
MWR Life's commitment to its membership and business opportunity is unquestionably one of the many reasons it is one of the fastest-growing travel companies in the direct selling industry.
"We are just getting started. Rest assured that we will continue to innovate, enhance, and improve the Travel Advantage™ membership and our business opportunity. We look forward to announcing more impressive milestones in the future, and we owe it all to the hard work, vision, and continued belief of our incredible team."
CEO Yoni Ashurov said.
About MWR Life
MWR Life is a global travel platform that benefits their Lifestyle Consultants with the opportunity to create the lifestyle of their dreams and travel the world. Their Travel Advantage™️ booking platform has discount travel rates on hotels, flights, cruises, resorts, car rentals, activities, and more! Plus, their fully curated Life Experience®️ trips to exotic destinations around the world are helping their members create memories that last a lifetime. For more information, visit www.mwrlife.com
Recommended Distributors MWR Life