Ambassador Mike Jamison Inches Closer To Goal Of $100,000 Per Month At Kuvera
June 5, 2020
By Team Business For Home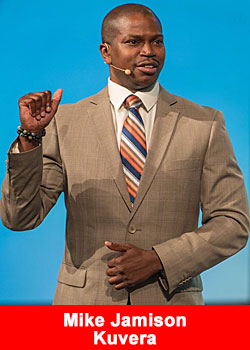 Mike Jamison, a 45 year old from Atlanta, Georgia, also known as "Noble Mike Jamison" has been in the Network Marketing industry for 18 years.
Noble Mike Jamison has set a personal goal to earn $100,000 a month, and over 1 Million annually at Kuvera. He lives by the motto,
"You must be bold, audacious, and slightly obnoxious!"
Mike Jamison is currently at the rank of Ambassador. When asked about his success at Kuvera, he said,
"As a six-figure earner in this industry, I take pride in helping investors go from good to great by teaching simple philosophies such as 'spend out of your passive income and invest your earned income!'

Kuvera has provided me with the opportunity to give members a true "triple threat to a Million dollars" by: 1) utilizing Kuvera's services & technologies, 2) taking advantage of the marketing plan, and 3) investing in Investview stocks."
Mike's dedication and example make him a true leader in the company and is well respected by many. Mike excels in people development, and spends a lot of his time and focus on training others.
Noble Mike Jamison has been with Kuvera for two and a half years. He chose to join Kuvera because he wanted the ability to learn how to trade and use managed services. He was also very interested in owning shares of Kuvera's parent company, Investview Inc. (INVU).
He earned a Bachelor's degree in Computer Science and is a former Senior Software Engineer. He worked in the IT field for 10 years. After building his own business from home, Noble Mike Jamison transitioned to the Direct Sales industry. He is focused on building a world-class international investment community called "The AMG Network".
Noble Mike grasps all aspects of Kuvera's business, and truly takes advantage of the offered products. His personal favorite is ALERTSone, a market education platform that provides trade alerts for all three of the major markets: Forex, Cryptocurrency, and the Stock Market.
The wisdom he wants to leave with the field is to be patient and appreciate the process of learning and becoming a leader.

For those who are just starting out in the business, he recommends being coachable and having a high level of BELIEF and a low level of AGREEMENT in the beginning of your journey.
There is no doubt that with his endless commitment and dedication, Noble Mike Jamison will continue to excel in the company and will accomplish all his goals.
About Kuvera
Kuvera, a subsidiary of Investview, delivers financial education, technology and research to individuals through a subscription-based model. Kuvera provides research, education, and investment tools designed to assist the self-directed investor in successfully navigating the financial markets. These services include research, trade alerts, and live trading rooms that include instruction in equities, options, FOREX, ETFs, binary options, crowdfunding and cryptocurrency sector education.
In addition to trading tools and research, Kuvera also offers full education and software applications to assist the individual in debt reduction, increased savings and budgeting.
Each product subscription includes a core set of trading tools/research along with the personal finance management suite to provide an individual with complete access to the information necessary to cultivate and manage his or her financial situation. For more information, please visit kuveraglobal.com