MLM Leader Mohammed Shafi From India Joins QuiAri
June 3, 2020
By Team Business For Home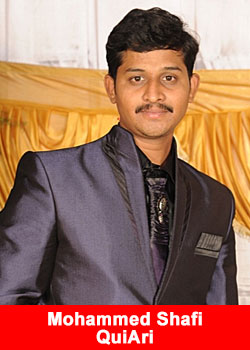 After just 8 months in business, QuiAri continues to defy MLM industry expectations. In the last few weeks QuiAri has taken their industry leading compensation plan to new heights. QuiAri was already recognized for having the fastest payouts in the health and wellness industry with Same Day Pay (commissions paid just 5 minutes after each sale).
Now they have the fastest cycling binary and one of the highest payouts in the industry. With a state-of-the-art Free Tour Marketing System being released soon —  which will help Promoters generate leads and keep in contact with them 24/7, 365 days a year —  QuiAri is positioned to be the next multi-billion-dollar brand.
Promoter Mohammed Shafi from Hyderabad, India considers himself very fortunate to be part of QuiAri and is excited to see the company continue to make MLM history.
"My friend, Promoter Vishal Lama, shared a post from QuiAri's Facebook page that ended up on my feed. I had no idea that one little post could completely change my life. I've been involved in health and wellness MLMs before, but QuiAri is on an entirely different level,"
said QuiAri Promoter Mohammed Shafi.
 QuiAri's global domination didn't start in India, but recently there has been a swell of activity throughout the country. But that's not all — Asia and Africa are seeing similar spikes with other countries picking up steam. One of the reasons Mohammed joined QuiAri was because the company is active in over 100 countries worldwide from the first day they launched. He also fell in love with the taste of the products and experienced results almost immediately. According to Founder and CEO, Bob Reina, Mohammed's story is not unique.
"Mohammed Shafi, like all of our Promoters globally, is using the easy-to-follow, duplicatable system we have created to build his business. Mohammed is taking his success to the next level by becoming a product of the product. He lost an incredible 23 pounds in his first 25 days while taking the 90-Day Kickstart Challenge.

You can only imagine how excited he was to lose weight and have more energy. The QuiAri opportunity is designed in a way that converts Mohammed's passion for our products into extra income for him that's paid out instantly. He has achieved his health goals, now he's one step closer to achieving his financial goals," 
said Founder and CEO, Bob Reina.
Bob's plan has been a huge success as QuiAri's global presence is growing each day. The company is  backed by a world-class executive team with over 150 years of MLM experience. From the world's #1 maqui berry scientist, Dr. Juan Hancke, to former executives from multi-billion-dollar health and wellness companies, QuiAri is headed straight to the top.
"You can tell that QuiAri is not like other MLM companies by looking at all of the resources available. It is a debt-free company and Bob spares no expense in giving Promoters and Customers plenty of tools that contribute to their success. From a free mobile app to the most advanced Back Office in the industry, you get everything you need to succeed and more. Bob is always surprising us with some new tool or enhancement to help us promote. I've cheered more in the last 8 months than I have in my entire life,"
said Mohammed Shafi.
Bob Reina refuses to compromise when it comes to the quality of his products or services. When developing QuiAri Shake he tasted over 111 different products – every nutritional shake on the market at the time – only to be disappointed with the results. Many shakes provided adequate nutritional value, but tasted gritty or sandy. It took Bob nearly a year to get the perfect balance of taste and nutrition for QuiAri Shake, but his diligence paid off. The worldwide demand for QuiAri Shake and QuiAri Energy is proof that everyone that tries the product, loves it, and wants to share with others.
Mohammed Shafi loves the products, not just for the taste, but for its simplicity. QuiAri's 90-Day Kickstart Challenge has one of the easiest weight loss and energy programs to follow.
"Many of us are not getting the proper nutrition and our lives are suffering. I admit to being one of them. The simplicity of QuiAri is helping to change the stereotype that taking care of your body has to be a chore. There are 2 steps to QuiAri: Drink a delicious shake, then take 1 – 2 energy pills. That's it. We all have really busy lives, especially in India, but it takes almost no time at all to take the Kickstart Challenge ," said Mohammed Shafi.
 Mohammed feels like QuiAri has helped him get both his personal and professional life to a good place. He has better health, more time freedom, a positive attitude, and Same Day Pay is helping him work towards complete financial freedom.
"I'm living my life day by day, but still looking towards the future of sharing QuiAri products. QuiAri's generous compensation plan will help me earn more Same Day Pay, allowing me to provide a better life for my family. I was always willing to work hard to make it happen, but I never imagined I'd have this much fun doing it,"
said Mohammed Shafi.
About QuiAri
QuiAri provides life-changing opportunities that empower people to feel their best so they can live their best. Their breakthrough health and wellness products are made from an exclusive extract of the maqui berry, the world's new number 1 superfruit. Plus, QuiAri offers opportunities to receive Same Day Pay just by sharing their products with others. Try. Love. Share!
To learn more about QuiAri, or to get in touch with a Promoter, visit QuiAri.com.
These statements have not been evaluated by the Food and Drug Administration. These products are not intended to diagnose, treat, cure or prevent any disease.
Income Disclosure Statement
Please note the QuiAri business opportunity offers unlimited income potential. However, QuiAri makes no guarantee of financial success. Success with QuiAri results only from successful sales efforts, which require hard work, diligence, skill, persistence, competence, and leadership. Your income will depend upon how well you exercise these qualities.
 As QuiAri is in its first year of business operations, we do not have sufficient statistical data to prepare complete, first-year income disclosures. A more detailed survey will be conducted after our first year of business. If income projections were presented to you prior to your enrollment, such projections are not representative of the income, if any, that you can or will earn through your participation in the QuiAri Compensation Plan.
Recommended Distributors QuiAri