Total Life Changes COO Dazzles During Outreach & Hosts Weekly Celebratory Broadcast
June 14, 2020
By Nicole Dunkley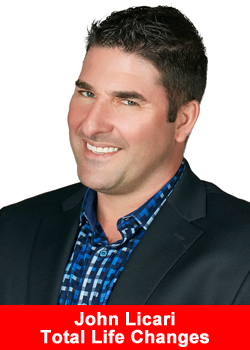 It's Thursday night, June 4th, and John Licari is beaming from ear to ear. The clock on the wall says it's after 10 pm in Fair Haven, Michigan, but you wouldn't know it from seeing Licari behind the microphone as he holds court during his fourth Thursday Night Live with John Licari broadcast from the headquarters of Total Life Changes where Licari serves as Chief Operations Officer. He greets his listeners loudly, with applause, and always with that smile.
Licari began these broadcasts, hosted by the TLCHQ Facebook page, to mark the close-out of the company's business week with as much fanfare as possible, especially given the shift in the world's interpersonal landscape during the Coronavirus pandemic. Members of the company's community, customers and Independent Business Partners Licari calls "Life Changers," are encouraged to call-in. And call-in they do.
The voices on the other end of the line are always excited. Licari is a celebrity. His fans gush about how important the company has become to their lives in relation to their physical, emotional, and financial health. One caller explains how TLC has become part of her successful sobriety. Licari is visibly moved.
It's been a long journey for a company that started in a basement and its COO who wasn't completely on board at the start.
The beginnings of Total Life Changes are described in company CEO and founder Jack Fallon's soon-to-be-released memoir, Believe in More. Before growing into a behemoth in the health and wellness sector, TLC was just a dream and some boxes in the back of Fallon's car.
Before long, the company was moving enough of its early signature product, NutraBurst liquid multivitamin, that it moved into a basement. Fallon needed some help, so he reached out to his friend from the Ford assembly line, John Licari.
Licari went to work part-time with Fallon, filling orders and answering the phones, often using a different name to give callers the impression that the company was more than just a couple of guys in the basement. Eventually, Fallon writes, Licari realized the impact the company and its products were having on the people it served.
"Many years later," Fallon writes in his new book (coming soon), "Johnny told me that if I had been able to articulate my vision early on, he would have wholeheartedly bought in much sooner. He has always enjoyed helping people, but it wasn't until he saw that we were helping thousands that it finally sunk in. I guess he had to figure it out for himself."
Since those humble beginnings, Total Life Changes has grown into a successful multi-level-marketing enterprise, adding employees, partners, and products along the way. Now the company's best-selling item is Iaso Tea, a beverage that assists in maintaining healthy weight and digestion. The multivitamin product offerings have expanded to include other dietary supplements and essential oils. Recently, the company has begun marketing hemp-enhanced products to take advantage of the interest in CBD's health benefits.
The key to TLC's success, though, isn't just great products. It's great people. As Licari explains in the broadcast, when people make connections with customers to explore the impact they can have on one another's lives, business becomes something more.
"It's not selling," he explains. "It's sharing."
Sharing is obviously the point of these Thursday night broadcasts. Licari has become the voice of the company and the face of much of its outreach as TLC has expanded around the world. He's the cheerleader-in-chief. He pleads for positivity, for stories of both challenges and successes. The callers rise to the occasion.
"That energy was amazing," he says near the end of his broadcast, "and that's what Thursday night is all about."
The last caller has reached an important sales milestone, and Licari is absolutely jazzed. So is the caller. So are the broadcast's commenters. It's a celebration that Licari promises will return next week.
"We can change the world with love," he says, still smiling. "We absolutely can."
The Thursday Night with John Licari broadcast airs at 10 pm EST on Thursdays, and is available at https://www.facebook.com/TLCHQ/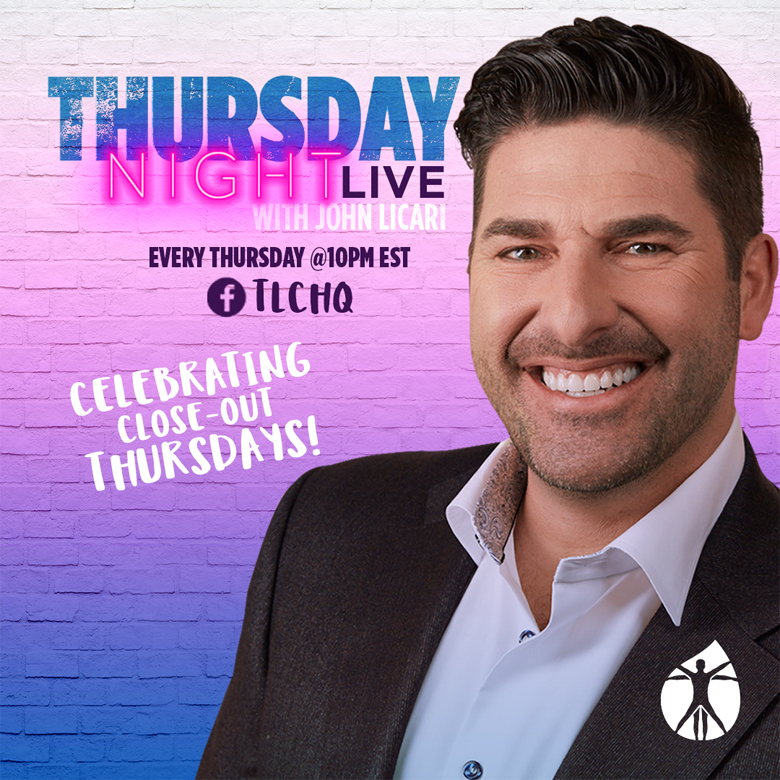 About Total Life Changes
Total Life Changes (TLC) is a direct selling company offering a diverse product portfolio of health and wellness products. Founder and Chief Executive Officer Jack Fallon created TLC 16 years ago with a single product: NutraBurst®. Since that time, TLC has continued to develop weight loss and wellness products matched with an attractive hybrid binary compensation plan.
This allows Life Changers of TLC to be rewarded quickly for introducing new customers to its products and business opportunity. Find out why so many are saying, 'It really is different over here.' For more information, please visit www.totallifechanges.com
Recommended Distributors Total Life Changes