Neworkom Support The Launch Of New Social Network Ulyfe
August 10, 2020
By Team Business For Home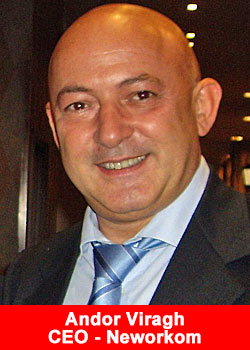 The new social network starts with more than 20,000 users.
With an unprecedented operation, Neworkom International Ltd, an MLM startup specializing in innovative opportunities born in 2019 based in Malta, becomes the catalyst for the launch of a new social network.
Ulyfe is a new generation social network, based on the experience of today's social media. It is an innovative platform, based on the Digital Sharing Economy concept, in which a large part of the transactions that take place within the system are shared between all users and the social and humanitarian activities that Ulyfe supports. Another peculiarity of Ulyfe is that it works in Affiliate Marketing: you can enter only if you are invited.
In Ulyfe each user can open a certified web space to show his or her talent or activity, buy products and services in thousands of local and worldwide stores and buy products, from private to private. A global platform, starting from the local, that puts geolocation and georeferencing at the center of the offer.
On Saturday, August 8th, in an online streaming event, Neworkom had the honour of introducing Ulyfe: over 11,000 visitors followed the live on Youtube with a stream of registrations to the social media that exceeded 20000 people.
"It was an indescribable emotion," said Andor Viragh, CEO of Ulyfe. "We had planned the launch later on in 2020, but the international situation due to the Covid-19 completely turned our plans upside down.

We decided to anticipate, going against the trend, increasing investment because it is precisely at times like these that users need a platform like Ulyfe: safe, free, social, green.
In addition to CEO Andor Viragh, a successful social networker with a very long career in social network building and the inspiring mind behind the project, Ulyfe also boasts among its ranks some excellences in Marketing, IT and development well known to the Network environment:
Antonio De Rosa, CVO, for 25 years in the network, fresh ambassador of Network Marketing, award-winning concept designer;
Enzo Giordano, CTO, over a decade in charge of the development of systems and products distributed by Network companies, with an important background in the wearable field;
Roberto Mariani, Green Manager and responsible for social activities, a long IT experience and a deep knowledge of Africa;
Massy Carnevale, Head of Security and Information Systems, author of books on the subject and expert in infrastructure and control systems;
Fabio Dell'Aquila, General Manager of Ulyfe, international experience in the establishment and control of corporate assets;
These people are complemented and supported by a large number of colleagues who have contributed in an essential way to the growth of this new project.
Ulyfe opened to its 20,000 pre-registered members today, Monday 10 August. In the following days the Social Network will open its doors to all users.
To learn more about the Ulyfe project you can visit about.ulyfe.com.
About Neworkom
Neworkom™️ was founded in Malta in 2019 by a group of entrepreneurs with twenty years of experience in finance, networking and community building. The need to build a pillar of excellence that brings together experts in various sectors to drive innovation, was the spark that gave rise to the concept of New Work and Communication, Community, Commerce. A place to host the dreams of others, making them come true.
www.neworkom.com
Neworkom seeks, in the present, the opportunities of the future, providing people with concrete ideas to improve their lives. The ultimate goal is that the opportunities offered by Neworkom™️ can bring inspiration and innovation to everyone in the world. For more information please visit www.neworkom.com
About Ulyfe
Ulyfe™️ is a 2nd generation social network, based on a community built in Digital Sharing Economy. It is a protected environment, designed in blockchain, where anyone with a talent, who wants to express himself, exchange goods and services, whether private or professional, can find his space, online or offline, starting from the home to reach the global audience.
This starting from a specific place, a geolocalized map that starts from where you are, all around you. A part of everything that this economy generates is distributed among the members of the community. Access is possible from any device and you can be part of it by following the Affiliate Marketing system: it is only thanks to an invitation that you can be part of this community. For more information please visit about.ulyfe.com