Ada Caballero Top Speaker At The Business For Home Virtual Conference
November 19, 2020
By Team Business For Home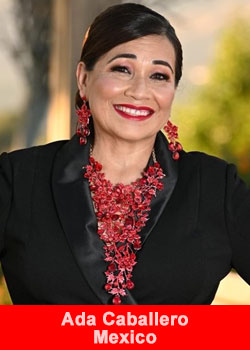 Order your "special early bird priced" ticket here
Ada Caballero, originally from Mexico, she now lives in California with her husband Jose Luis. With all the success she is having with the massive amount of people joining her teams, it is no doubt that she will be a beacon in Network Marketing for years on out.
Ada has worked in Network Marketing for over 20 years. Like many, she consistently struggled with health and financial issues, but never seemed to find the right opportunity or the right company that would reward her hard work.
Ada said:
I always considered myself as a good network marketer. I have been in top spots in multiple companies. But I remember I was to the point that I did not know what to do.

I was losing everything including my home and, even worse, my family's faith in me all because my Network Marketing dream.'
Being a woman of high ethics and integrity, she was concerned for her team and wanted them to achieve their goals and not just rewards, but it always seemed to come down to those high above that always made the big money.
Ada recalls:
 I remember one time when I was admitted to the hospital a few weeks and could not work. The company I represented at time took away my downline and gave it to another top leader.

When I came out of the hospital, my business was gone. I lost my will to work for Network Marketing at that moment; there was no respect.'
In the end, it taught her a valuable lesson. After that occurrence, she was always protective of her teams and always working. As a woman with natural leadership abilities and a wonderful heart, everything started to finally click into place.
—
Marketing Professionals from around the world will come together in an immersive generic training experience.
Using the latest and most advanced technology and audio/video equipment available, we will bring you 3 days of the best of the best training anywhere available for an unparalleled price, broadcasted from an impressive TV studio in the Netherlands.
An "special early bird priced ticket" is just $35 for all 3 days!
Young network marketing leaders, fast rising stars, as their mentors will share their methods and "secrets" to recruit, team up and build a large organisation.
30+ Top speakers from Asia, Europe, Africa, Latin America, Middle East and the USA!
Order your "special early bird priced" ticket here
April 2 – 4, 2021
"What's possible for one is possible for all, Network Marketing makes ordinary people to be extraordinary".
A ticket is just $35 for all 3 days!
Order your "special early bird priced" ticket here
About Business For Home Virtual Conference
The virtual conference is delivered to you in a completely generic format. No companies or products are ever mentioned, so you will feel safe to share this ultimate training event with your Team. Emerge from this new era as a true leader. Unveil the secrets of influential network marketeers from all over the work at our event.
And there is no better place to invest in yourself than the upcoming Business for Home Virtual Growth Conference, a three-day life changing experience that features renowned legends and rising stars.
Learn how to excel in your business and be empowered by successful leaders that will provide you with the necessary tools to become a better version of yourself. For tickets please click here, for the conference overview with 30+ speakers please click here.