Network Marketing Leader Cherry Ordonez Joins QuiAri
November 27, 2020
By Team Business For Home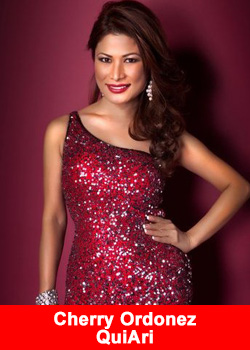 Cherry Ordonez, has spent her 25+ year career helping people feel beautiful both inside and out. She is the proud owner of Cherry's Salon and Spa, located in West Covina, California just outside of Los Angeles.
"I also serve as a professional make-up artist for celebrities and people in show business. Now I'm spreading my entrepreneurial wings even further by joining QuiAri,"
stated, Cherry Ordonez.
Cherry's friend, QuiAri Promoter, Dr. Frankie Torreflores, introduced her to the company. She had gained some weight over the past few months and was looking for a new product to help get her get healthy.
"Dr. Frankie offered me QuiAri product samples. couldn't believe how well they worked. Not only did I lose weight, but the Shake and Energy tablets provided me with better mental clarity and awareness, instant energy, clearer skin, and it improved my mood."
The secret ingredient in all QuiAri products is the world's new #1 superfruit, the Maqui berry. On its own, the Maqui berry provides antioxidant protection that's 5 times higher than any previously known superfruit and it products against all 6 harmful primary free radicals. The reason you might not have heard about this powerful berry is because it can only be found deep in the pristine Patagonia region of Chile, one of the cleanest places on Earth.  Founder and CEO, Bob Reina, is the first to bring Maqui to the global market and people are responding very favorably.
"It takes a massive amount of resources to launch a new health and wellness product internationally. That's one of the reasons you don't see many new companies attempting it. Fortunately, QuiAri was well-positioned to launch in over 200 countries starting on day one.

Based on our growth this past year, there was clearly a demand for something new and fresh. QuiAri is unlike any other product on the market. It tastes great and delivers results you can feel right away,"
stated QuiAri Founder and CEO, Bob Reina.
In addition to great taste, Bob collaborated with Dr. Juan Hancke, the #1 Maqui berry scientist in the world, to develop a proprietary MaquiX® extract that boosts the antioxidant power of Maqui ten times. MaquiX®, and the combination of other essential vitamins and minerals, puts QuiAri in a class all by itself. For people that already love the products, Bob provides an opportunity to earn money for helping spread the word. Cherry converted from Customer to Promoter almost immediately. She saw the QuiAri opportunity as the perfect vehicle to add another stream of income and join a company that's on the rise.
"I meet new people all day long – at the salon and through friends and family. People are interested in learning more about QuiAri and Maqui, especially when I tell them about my experience. I always keep a handful of samples in my purse when I go about my day. It's easy and QuiAri pays instantly, which is unusual in the MLM industry, "
stated Cherry Ordonez.
QuiAri Promoters have the flexibility to run their business from anywhere in the world and get paid commissions instantly – within 5 minutes after each sale. Founder and CEO, Bob Reina, developed exclusive, state-of-the-art technology with his I.T. team that delivers instant pay directly to a QuiAri-branded Visa debit card or an e-wallet account. For Promoters that download the free QuiAri app, they are notified via "cha-ching" sound effect every time a payment is made.
"The leadership from QuiAri Founder and CEO, Bob Reina, and the executive team has been outstanding. I would use the word 'innovative' to describe QuiAri. I feel like I already have all the resources I need to be successful, then Bob debuts new technology or sleek new marketing materials and gets everyone even more excited.

He recently shared a new marketing video with original footage shot in the Patagonia region of Chile. It's so cool to be part of a company that goes out of its way to help the team."
Cherry has seen her business grow rapidly in the past several months, which she attributes to the 100K Playbook, a step-by-step guide to success available to QuiAri Promoters.
"I have no doubts about my personal success and the success of my team based on the leadership that is in place. We have leaders that have helped run multi-billion dollar companies before. In the next 5 years I expect QuiAri to be a household name,"
stated Cherry Ordonez.
Income Disclosure Statement
Please note the QuiAri business opportunity offers unlimited income potential. However, QuiAri makes no guarantee of financial success. Success with QuiAri results only from successful sales efforts, which require hard work, diligence, skill, persistence.
These statements have not been evaluated by the Food and Drug Administration. These products are not intended to diagnose, treat, cure or prevent any disease.
About QuiAri
QuiAri is the #1 health and weight loss movement in the world today. Featuring exclusive, breakthrough products (QuiAri Shake and QuiAri Energy) featuring the world's new #1 superfruit, the Maqui berry, people everywhere are losing weight, boosting their energy levels, and improving their health. What started as an idea has now become a worldwide phenomenon, gaining a passionate following in over 200 countries. But that's not all!
We boast an exciting opportunity to promote QuiAri products and earn commissions within 5 minutes after each sale through industry-first, state-of-the-art payment technology. Combining unrivaled products with the fastest payout, the fastest cycling binary, and one of the highest paying compensation plans in the industry, there's no doubt QuiAri is helping people live healthier, happier lives. To learn more, please visit quiari.com.
Recommended Distributors QuiAri