Noni by NewAge Celebrates Rebrand Of Tahitian Noni & Product Line Expansion
November 19, 2020
By Team Business For Home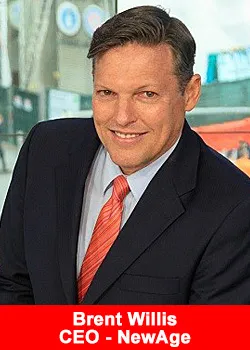 NewAge, Inc. (Nasdaq: NBEV), the Colorado-based omni-channel social selling and distribution company with a network of independent business owners across 75 countries worldwide, announced the U.S. launch of four additions to the Tahitian Noni® line with new Tahitian Noni Superfruit Wellness Shots, as part of a complete rebrand of Tahitian Noni, with a global launch soon to follow.
Tahitian Noni Superfruit Wellness Shots combine the potent, antioxidant-fueled power of noni with complementary, science-backed ingredients to amplify noni's power and best address modern wellness challenges. Formulated to provide essential wellness, stronger immunity, sharpened mental focus and better sleep, and packaged in a convenient single-serving size, Tahitian Noni Wellness Shots are designed to be the on-the-go nutrition solution for today's busy lifestyles.
"The launch of Tahitian Noni Wellness Shots is the result of answering marketplace demand at an unprecedented time when immune, sleep and brain support have never been more critical,"
said NewAge CEO Brent Willis.
"Tahitian Noni Wellness Shots not only address today's urgent health challenges but also provide an even more dynamic opportunity for our business builders as we progress to becoming the number one social selling company in the world."
Functional shots are a very convenient form of nutrient intake and is a fast-growing market category increasingly in demand. With forecasted growth in the functional shots market projected to reach USD $1.0 billion and the global dietary supplements market size projected to reach USD $230.73 billion by 2027, the Tahitian Noni line's expansion offers an exciting opportunity for more than 300,000 NewAge independent product consultants and customers to lead in this high-growth category.
About NewAge, Inc.
NewAge is a Colorado-based organic and healthy products company dedicated to inspiring and educating consumers to "Live Healthy." The Company is an omni-channel distribution company with access to traditional retail, e-commerce, direct-to-consumer, and medical channels across more than 75 countries worldwide when combined with ARIIX.
NewAge markets a portfolio of differentiated healthy functional brands in three category platforms including Health and Wellness, Inner and Outer Beatuty, and Nutritional Performance. The Company operates the websites newage.com, noninewage.com, and a number of other individual brand websites.