Alan Noble – ASEA's Million Dollar Irishman
January 14, 2021
By Team Business For Home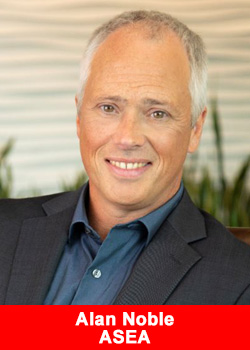 Alan Noble was recently recognized as one of the elite Million Dollar annual income earners in the Network Marketing Industry. But his success didn't happen overnight. In fact, it was a 27-year journey that began in his hometown of Belfast, Northern Ireland.
In 1992, I graduated top of my class with a degree in International Finance, only to realize I was psychologically unemployable! I didn't want to clock in and clock out for the next 40 years.  "Freedom" was then, and still Is, the most important word to me.
So, Alan Noble put on a backpack and travelled the length of Africa, getting to experience some pretty amazing things, like sitting with the mountain gorillas in the Western Congo, and climbing Kilimanjaro. However, despite the adventures, he came back home still unsure as to what he wanted to do with his life. So, he started a Master's in Finance.
It was at that time Alan was introduced to a little book called the Boom Business of the 90s, that he says changed his life.
This little book introduced me to the Network Marketing business model and the power of leveraged residual income. I quickly realized that my Finance degree had not taught me how to create wealth, but instead, how to look after other people's wealth.
It was in that moment that Alan knew he wanted to become a Network Marketing Professional; however he is always clear to point out his journey.

I am a natural introvert, and even after college, I was quite a shy person. Not great for a would-be Networker! I am certainly living proof that Network Marketing is a journey of personal development cleverly disguised as a business.
Although Alan loved the business model, he found it increasingly difficult to find his home in the industry. Preferring the Health and Wellness space in Network Marketing he felt the industry had become saturated with a lot of me too, same old products.  He had also become disillusioned with poor corporate management, companies going out of business and unscrupulous Master Distributors.
My criteria for success was simple. I wanted to find a truly unique and exceptional product; to tell a story that had never been told before in health and wellness. I was also looking for a company that I could trust, so that when my head hit the pillow, I felt my business was in safe hands.
For 8 years Alan left the industry as a full time professional. Then in 2009, looking for a health solution that might help a family member, he stumbled on ASEA and their groundbreaking patented redox signaling technology.
I recognized that ASEA had created a new category of health supplement; a technology, that for 2 decades, scientists had declared impossible and a story that had never been told before, both inside and outside of the Network Marketing Industry.
Alan also discovered a company ownership that was willing to put people first, by turning down a massive payout from the pharmaceutical industry so a handful of people could continue to thrive on the product. And of course, as Alan points out "Breakthroughs create opportunity, and the bigger the breakthrough, the bigger the opportunity".
Built on Fortune 500 principles, ASEA has a very healthy approach to growth and longevity. In the words of Chuck Funke, ASEA CEO,
"There are levers you can pull for fast growth, but they are not the same levers you pull for legacy growth."
In the last few years ASEA has doubled in size reaching annual sales of $180 million in 2020 and is firmly focused on taking the company to $500 million in the next 5 years. There is no doubt, with ASEA, the best is yet to come.
Alan states that his Noble Purpose is to transform lives both physically and financially harnessing the power of redox and ASEA. An opportunity where the size of your commission check truly is a direct reflection of lives changed!
When you finally find your home in this great industry, it becomes like family. After almost 12 years with ASEA, I am so grateful for the ASEA leaders, in over 30 countries, that I get to work with every day. They truly are my global family.
Alan now lives in Frisco, Texas with his wife and 2 daughters.
About ASEA
ASEA is a growing direct-sales phenomenon born from the vision, passion, and Fortune-500 experience of company founder Verdis Norton. Profitable from its first year of business and financially sound, ASEA produces its one-of-a-kind products in an FDA-registered, NSF-certified facility, and they are redox certified by a prestigious third-party lab. The manufacturing processes are 100% owned and operated by ASEA, guaranteeing product quality time and time again.
Today ASEA is led by an executive team with extensive experience both in and outside the network marketing industry. ASEA's executives are committed to the company's long-term sustainable growth while maintaining the principles and values upon which the company was founded. From its inception, ASEA has nurtured a culture of ethics and integrity. It's a global company built on a philosophy that embraces principle over profit and investment in people—a quality that attracts competent, outstanding Associates. For more information please visist www.aseaglobal.com
Income Disclosure Statement
Please note the ASEA business opportunity offers tremendous income potential. However, ASEA makes no guarantee of income. Success with ASEA requires work, persistence and dedication.
Recommended Distributors ASEA