Total Life Changes Exceeds Expectations of Growth into 2021
February 8, 2021
By Nicole Dunkley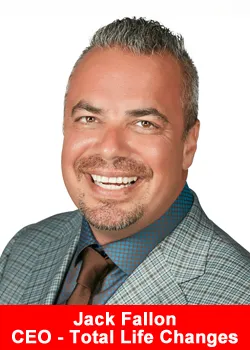 Total Life Changes ignited the health and wellness market in 2020 and continued to make positive strides into 2021. A year of ups and downs for everyone did not stop the company one bit as they turned these unusual times into a positive for those staying at home and those looking for an opportunity to better their health and fitness.
Director of Logistics & Fulfillment Evan Brengman highlights the changes of the warehouse, showing just how much TLC has grown:
"A lot has changed in the warehouse; we have grown from 75 to about 200 employees. Infrastructurally, we have changed as well; we have completed four total renovations of the warehouse this year. We have added six additional manufacturing lines, and we have grown beyond the four walls at TLC Headquarters. We have grown so much that we acquired two additional facilities in the Metro Detroit area."
As one of TLC's Core Values states, "We are Always Hungry for More," and the warehouse team exemplifies that value. Bringing back processes that worked in the past, as well as bringing outsourced products back in house is a crucial goal for 2021. Evan aims to ensure that the warehouse teams produce over 75,000 orders every day with a zero percent error rate to keep up with the increasing demand for products from Life Changers and customers alike. Implementing a new warehouse inventory and order management system will decrease the error rate and that packages are going out in a timely manner.
Evan expresses his gratitude for his team, saying he would be remiss not to recognize their hard work:
"Kurt Romancheck has really helped with the growth and restructuring with the warehouse. Of course, all the amazing supervisors, team leaders, and associates we have in the staff. It's surreal to see where we've come from and where we are now, and where we are going to go in the future."
Customer service has also expanded in 2021 as well, splitting into eight separate branches within the department: shipping, quality assurance, training, escalations, a team to handle Amish inquiries, IT, and team leads. A total of 50 employees have been added, including 21 bilingual employees, to help with the international reach of customer service. Customer Service, Assistant Manager Nick Navarro, highlights the goals of the department for the next year:
"We want to build the leadership within the department and build upon each other. We want to make sure we have enough staff to help facilitate more leadership positions to support our growth.
Customer service also gained more room for employees, with a 3,000 square foot mezzanine completed in January of 2021. IT, Marketing, User Experience, and TLC's Audio Visual Team also share this space, allowing for more growth from the ground up. Employees can also enjoy a private TLC gym to use before or after their shifts because health and wellness are critical to its success and mission.
TLC's HR department has also been busy onboarding all of these new employees and ensuring they have all of the resources needed to excel at their positions. Director of Human Resources Alexa Soto aspires to improve the processes surrounding onboarding and aims to bring the brand to a more global level:
"We try to set our employees up for success, giving them as much information as they need for their position, so they can continually grow within our TLC family. Our goal for 2021 is to take all of our HR processes globally, bringing them to all of our offices. Every time a Life Changer calls us, they receive the same service that encompasses the same core values. No matter where you call TLC, you're getting the same look and feel of our culture and the same vision that Jack Fallon (CVO) had when he started this company."
About Total Life Changes
Total Life Changes (TLC) is a direct selling company offering a diverse product portfolio of health and wellness products. Founder and Chief Vision Officer Jack Fallon created TLC 17 years ago with a single product: NutraBurst®. Since that time, TLC has continued to develop weight loss and wellness products matched with an attractive hybrid binary compensation plan.
This allows Life Changers of TLC to be rewarded quickly for introducing new customers to its products and business opportunity. Find out why so many are saying, 'It really is different over here.' For more information, please visit www.totallifechanges.com
Recommended Distributors Total Life Changes