World Renown Health & Wellness Clinician & Speaker, Dr. Eric Nepute, Joins The Scientific Board At AmpLIFEi
February 17, 2021
By Team Business For Home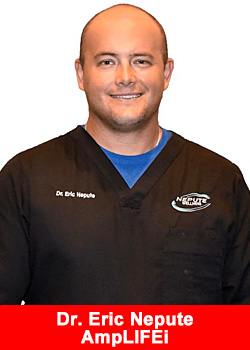 AmpLIFEi International™ today announced the addition of Dr. Eric Nepute, to AmpLIFEi™ and the HAPInss Brands™ Scientific Advisory Board.
Dr. Nepute recently locked arms with AmpLIFEi™ and its HAPINss Brands™ and will work closely with AmpLIFEi's Chief Science Officer Dr. Michael Epitropoulos, to help lead its newly formed Scientific Advisory Board made up of experts that includes doctors, specialists, nutritionists, product formulators, and manufacturing experts who together have helped develop a number of health and wellness products in the US and abroad.
Dr. Eric Nepute is a COVID-19 health expert, the owner of Nepute Wellness Centers in St. Louis, founder of the Wellness Warrior brand, and the leader of The Commonsense Health movement aimed at providing communities in America with medical health aid.
"Dr. Nepute's passion for health and wellness comes from his own life experience. His empathy is heartfelt and has become his driving force in discovering new advancements in natural remedies towards living a pain-free life. I am excited to work closely with Dr. Nepute work closely and  Dr. Epitropoulos on discovering additional evidence of the Brain/Gut Connection",
states Robert Oblon, Founder and CEO.
Dr. Eric Nepute has become a sought-after speaker in the health and wellness community, speaking on topics ranging from stress management to how to live a pain free life. He has helped businesses both large and small save hundreds of thousands of dollars by assisting in their health and wellness programs.
His unique ability to simplify complex health issues has brought Dr. Eric to the top of his field, not only as a clinician but also as an expert speaker. Dr. Eric's workshop programs have been called "educational, motivational, and inspirational" by Dr. Bob Hoffman, author of The New York Times best seller, Discover Wellness.
"My drive to serve others comes from knowing there are so many people who think, medical surgeries or medicines are the only solutions. Teaming up with Robert and Laura, and Dr. Epitropoulos, will give me the ability to work closely with pioneers in the Brain/Gut Connection so we can spread the word of more natural remedies, which in many cases can work better and faster than medical remedies, without the life altering side-effects",
states Dr. Nepute.
About AmpLIFEi™
AmpLIFEi International™ is a health and wellness lifestyle company with exclusive marketing rights for HAPInss Brand's products serving freelance entrepreneurs. These two Companies combined give customers and its freelance entrepreneurs more options to improve their lives in a more complete way.
HAPInss Brands™ is a Nutritional Science company providing people with the latest technological advances specific to amplifying the state of wellbeing, also known as happiness. For more information about AmpLIFEi™ please visit www.amplifei.com
Recommended Distributors Amplifei