MWR Life Is Poised For Exponential Growth In 2021 
March 15, 2021
By Team Business For Home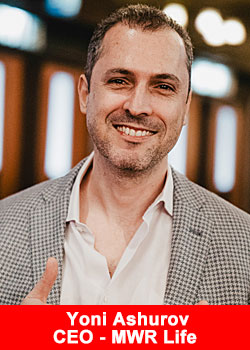 During the past year, Covid-19 has made a profound impact on travel-related companies. While many have struggled, pivoted into products, or even failed, MWR Life has persevered during these unprecedented times.
With an unwavering vision throughout 2020, they continued expanding their markets, improving the Travel Advantage™ membership, and are now positioned as one of the top travel companies in the Direct Selling Industry.
MWR Life's proprietary travel platform is one of the reasons for its success. Before the pandemic, development had already started on their new Lifestyle Mall, which launched in early 2020. With massive discounts on millions of products from over 1500 luxury brands like
Dolce Gabbana
Versace
Prada
Michael Kors
Gucci
Chanel
Bulgari
the Lifestyle Mall brings an entirely new element to the membership and provided value during a time when travel was restricted.
Owning the Travel Advantage™ platform allows for constant development and improved value. This value has allowed MWR Life to continue growing and developing new teams in new countries. In 2020 they welcomed multiple new members to their $100k, $250k, and $500k earners club, plus new Million Dollar Club Members.
"2020 was one of the toughest years I have ever experienced in this industry. Thankfully our commitment to providing the most lucrative business opportunity led us to become a cloud-based model for the past three years.

All of our departments are already working remotely. Development and productivity did not flinch during the pandemic. With events and field-related activities prohibited, we invested this additional time to improve the Travel Advantage™ Membership and our business opportunity. Looking ahead, there is a huge pent-up desire to travel, and we will flourish as the world opens back up in 2021 and 2022,"
said Senior Vice President Kevin Albright.
Many of these improvements and developments will be announced on March 27, 2021, at their Making Wishes Real Virtual Event. The Corporate Team and many Top Leaders from around the world will be speaking live and simultaneously translated in over eight languages. Top Network Marketing Trainer Mr. Eric Worre will be sharing an unbelievable training session during this event that will be FREE for anyone to attend on their Facebook page.
"The savings and benefits of the Travel Advantage™ Membership will be in huge demand as millions of people return to the skies, resorts, and beaches of the world. If you can't wait to travel and throw away your mask, that should be a big clue as to where the opportunity will be in the years ahead,"
said CEO Yoni Ashurov.
MWR Life is already well on its way to becoming the travel membership of the future and reaching its goal of 1 million members worldwide. Their Making Wishes Real Virtual Event will help make this goal a reality.
About MWR Life
MWR Life is a global travel platform that benefits their Lifestyle Consultants with the opportunity to create the lifestyle of their dreams and travel the world. Their Travel Advantage™️ booking platform has discount travel rates on hotels, flights, cruises, resorts, car rentals, activities, and more!
Plus, their fully curated Life Experience®️ trips to exotic destinations around the world are helping their members create memories that last a lifetime. For more information, visit www.mwrlife.com
Recommended Distributors MWR Life