ATTEVA International In Pre-Launch And Strategic Global Expansion
April 12, 2021
By Team Business For Home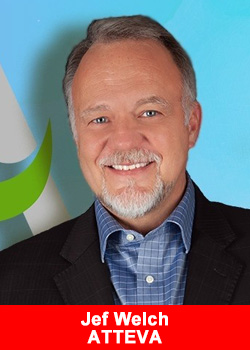 Top international distributor and icon in the Direct Sales profession, Jef Welch, has been quietly orchestrating the company that fits the 21st Century" in Network Marketing.
Jef Welch, the C.E.O. of ATTEVA International, has been in the Direct Sales business for over four decades, mostly in health and wellness products. In the 1990's he was influenced by Dr. Samuel Epstein, (author of "Unreasonable Risks") and his mission to expose potentially harmful ingredients in products, as well as providing safe, clean, efficacious products their members can use with confidence.
"ATTEVA means at-nature. Embracing the many gifts of which nature has given us, with cutting-edge science, as well as a positive culture in personal growth and team support, it's all about quality team environment and clean products which are on the next level for optimal health."
stated Jef Welch, C.E.O.
ATTEVA's commitment to Social Responsibility and the environment, they've chosen to operate as a cloud-based company, with a minimum to zero carbon footprint.
"Companies have been expecting their field affiliates to work remotely for many years. It isn't practical for corporate to operate in an obsolete brick-and-mortar environment when we are inherently a click-and-order business model.

This is a waste of resources in my opinion. I'd rather place more income potential into the compensation plan for the field affiliates, and that's exactly what we've done."
said Jef.
Jef Welch has written almost 170 compensation plans, has built international teams in approximately 74 countries, and still holds the record in several countries. He developed and authored the Sustained Prosperity System, as well as the Action Pro90 System which teaches and trains Network Marketers on the efficiencies of follow-up and systematic methods in building duplication through simplicity and actions.
"Duplication – To Lead a large group of people to do a few simple actions, over a sustained period of time."
Jef believes in self-development and providing a consistency in training and coaching to assure there are no orphans in ATTEVA.
Curasol is 100% organic, with a powerful antioxidant that is at the top of the NrF2 Activator list which goes after oxidative stress. The organic curcumin in Curasol is 36 times more biosoluble which makes it hundreds of times more absorbable.
With its unique blend of ingredients, it helps with heart health, immune support, inflammation, gut health, and removing heavy metals. TevaGo is a functional beverage which is all-natural, (no chemicals), great for weight-loss, immune support, mental focus, and energy. They also have a CBD line which is all made from 100% organic hemp.
The product lines are expanding with two new products in the anti-aging category being released this Summer, and much more to come. Products and opportunity are available in 17 countries which include:
United States
Canada
Mexico
Australia
New Zealand
Austria
Germany
Ireland
Spain
Sweden
United Kingdom (UK)
Vietnam
Thailand
Philippines
Malaysia
Indonesia
Hong Kong
ATTEVA's has an efficient international e-commerce logistics model and is expanding. They have an Influencer Program with a 100% focus on the customer experience and the success of the Brand Partner.
About ATTEVA
ATTEVA is a debt-free company, privately owned, and is strategically established for long term sustainability. Our purpose at ATTEVA is to change lives and to make the world a better place. We can help people's health but we also provide an opportunity that puts the Brand Partner first.
At ATTEVA, we are committed to health with a natural path to wellness. Health isn't found in just products but is a shift in lifestyle choices. We are here to help you on that path to superior health and well-being naturally. ATTEVA products are specifically formulated with high-quality ingredients to help you reach and maintain your optimal health goals. Helping you to reach those target health goals and to maintain them is part of ATTEVA's mission.
While approximately 60% of people are unaware of their food choices to their health-related issues, processed foods do have an extreme impact on your health. Many nutritional products, foods, and snacks are filled with various unhealthy preservatives, petroleum ingredients, and carcinogens (cause cancer). Your decision to integrate the ATTEVA system of health is both a jump-start and a maintenance program in your transformation to wellness. For more information please visit www.atteva.com