ByDzyne Launches Elite Travel Subscription Service, BD Dreams Vacations
June 2, 2021
By Team Business For Home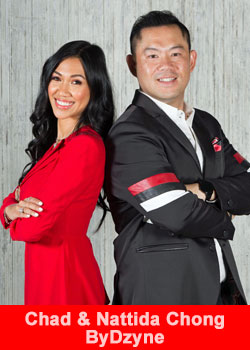 With worldwide travel this month reaching its highest numbers since the beginning of the pandemic in early 2020, ByDzyne is at the forefront of ground-breaking innovation yet again, with today's official launch of its highly-anticipated travel platform, BD Dreams Vacations.
Highlighted as "an experience beyond travel," BD Dreams Vacations is a travel subscription service like no other—an affordable choice with less hassle, more options, and big savings. The new endeavor is also backed by the company's major investment, worth over one million dollars, in a premier travel agency for proper registration, required travel licenses, and a completely worry-free travel experience.
While its competitors often include member restrictions or hidden hurdles to enjoy full benefits, ByDzyne makes it simple: for a low monthly flat fee and then a one-time booking fee per person, exclusive features include the option to book multiple unforgettable getaways per year, to bring an additional guest per trip, and to amazingly get paid for traveling through the company's hybrid e-commerce platform, BOS.Club.
In addition, subscribers who gain access to the global travel platform for this elite, one-of-a-kind group vacation experience, also earn a valuable Loyalty Reward Star for every month of subscription. Not only can the stars be redeemed for trips, but the Stars also remarkably remain active for up to 12 months.
Bucket-list dream destinations include 5-day/4-night accommodations at 5-star resorts in Dubai, Costa Rica, Thailand, Greece, Bali, and Mexico, as well as an Amazon adventure on a Brazilian ocean line cruise. Airport transfers are also incorporated, along with an exclusive hotel welcome reception, cultural city excursions, meals and more!
"We are so thrilled to officially launch BD Dreams Vacations! This year has been challenging for so many, and with today's exciting announcement of our new cutting-edge vacation platform, we hope that we can be a part of helping people redeem these past 15 months by booking their dreams vacations. It is simple, affordable, and really an experience beyond travel,"
shared Chad Chong, co-founder of ByDzyne.
BD Dreams Vacations' website and app, which will bolster the elite travel experience with stress-free easy booking, customizable trip details, and travel rewards management, will also launch in the coming months.
As the globe slowly reopens, it's clearly the time to dream again and hit the road. Whether it's salivating over a night of luxurious shopping in the modern world of Dubai, taking a stroll along the famous black sands of Santorini, Greece, or scuba diving through the natural caves of Bali, Indonesia, luxury travel is finally available again, and this time, it's affordable on any budget.
And according to the industry's latest trendsetting concept and redesign of travel, ByDzyne's BD Dream Vacations is the place to do it. With low costs, a promising reward system, and priceless memories from an elite group vacation experience at some of the world's most exotic destinations, BD Dream Vacations will revolutionize how travel is done.
*Please read full program details, including basic travel conditions, rules, terms, and conditions, before booking.
ByDzyne lanza el servicio de suscripción de viajes de élite, BD Dreams Vacations
Con los viajes en todo el mundo alcanzando este mes sus cifras más altas desde el comienzo de la pandemia a principios de 2020, ByDzyne está a la vanguardia de la innovación pionera una vez más, con el lanzamiento oficial de hoy de su muy esperada plataforma de viajes, BD Dreams Vacations.
Destacado como "una experiencia más allá de los viajes", BD Dreams Vacations es un servicio de suscripción de viajes como ningún otro: una opción asequible con menos complicaciones, más opciones y grandes ahorros. La nueva iniciativa también está respaldada por la importante inversión de la empresa, por valor de más de un millón de dólares, en una agencia de viajes de primera categoría para el registro adecuado, las licencias de viaje necesarias y una experiencia de viaje completamente libre de preocupaciones.
Mientras que sus competidores suelen incluir restricciones para los miembros u obstáculos ocultos para disfrutar de todas las ventajas, ByDzyne lo hace de forma sencilla: por una baja cuota mensual fija y luego una cuota de reserva única por persona, las características exclusivas incluyen la opción de reservar múltiples escapadas inolvidables al año, llevar un invitado adicional por viaje y, sorprendentemente, cobrar por viajar a través de la plataforma híbrida de comercio electrónico de la empresa, BOS.Club.
Además, los suscriptores que obtienen acceso a la plataforma de viajes global para esta experiencia de vacaciones en grupo de élite, única en su género, también ganan una valiosa estrella de recompensa por fidelidad por cada mes de suscripción. Las estrellas no sólo se pueden canjear por viajes, sino que además permanecen activas hasta 12 meses.
Los destinos de ensueño incluyen alojamiento de 5 días y 4 noches en centros turísticos de 5 estrellas en Dubai, Costa Rica, Tailandia, Grecia, Bali y México, así como una aventura por el Amazonas en un crucero de línea oceánica brasileño. También se incluyen los traslados al aeropuerto, junto con una exclusiva recepción de bienvenida en el hotel, excursiones culturales por la ciudad, comidas y mucho más.
"¡Estamos encantados de lanzar oficialmente BD Dreams Vacations! Este año ha sido un reto para muchos, y con el emocionante anuncio de hoy de nuestra nueva plataforma de vacaciones de vanguardia, esperamos poder formar parte de la ayuda a la gente para redimir estos últimos 15 meses reservando sus vacaciones de ensueño. Es sencillo, asequible y realmente una experiencia más allá de los viajes",
compartió Chad Chong, cofundador de ByDzyne.
El sitio web y la aplicación de BD Dreams Vacations, que reforzarán la experiencia de viajes de élite con una reserva fácil y sin estrés, detalles de viaje personalizables y gestión de recompensas de viaje, también se lanzarán en los próximos meses.
A medida que el mundo vuelve a abrirse lentamente, es claramente el momento de soñar de nuevo y salir a la carretera. Tanto si se trata de salivar con una noche de compras de lujo en el moderno mundo de Dubai, como de dar un paseo por las famosas arenas negras de Santorini (Grecia) o bucear por las cuevas naturales de Bali (Indonesia), los viajes de lujo vuelven a estar disponibles, y esta vez, son asequibles para cualquier presupuesto.
Y según el último concepto de tendencia y rediseño de los viajes, el BD Dream Vacations de ByDzyne es el lugar para hacerlo. Con bajos costes, un prometedor sistema de recompensas y recuerdos impagables de una experiencia de vacaciones en grupo de élite en algunos de los destinos más exóticos del mundo, BD Dream Vacations revolucionará la forma de viajar.
*Por favor, lea todos los detalles del programa, incluyendo las condiciones básicas de viaje, las normas, los términos y las condiciones, antes de reservar.
Recommended Distributors ByDzyne