VYVO Appoints Rina Chong As International Director Of Marketing
June 22, 2021
By Team Business For Home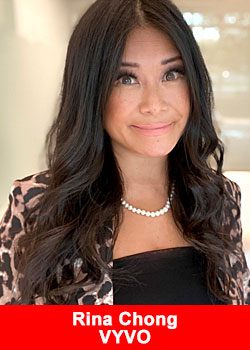 VYVO Inc, a cutting-edge Silicon Valley based technology company with a patented wearable device embedded with Life Sensing Technology™ – the very first LifeWatch to penetrate the network marketing profession, is thrilled to welcome Rina Chong as their latest addition to their family as International Director of Marketing.
Ms. Chong is one of the female entrepreneurs out of North America who has led the charge for women everywhere to become a new world entrepreneur. Having over 24 years of business acumen as an end user and in the field, her desire to create a unique customer experience has inspired organizations through her transformative coaching – which has empowered businesses to better serve their customers while adapting to the evolving changes on the digital frontline and economy.
Over the past few years, I've seen technology and AI take over many industries, especially in health. According to Statista, digital health is expected to grow to USD 660 Billion by 2025. I knew that I had to be part of that movement and help others get their piece of that tech-money pie.
Said Ms. Chong.
It all started with some health issues I was going through; I was looking for a health tracking device for the safety of my travels, so when I reconnected with Fabio, I knew it wasn't a coincidence and I was extremely honored. I always saw him as an eminent tech genius, but even more, I was drawn to his vision, his humble leadership and his dedication to helping others.
What is unique about Ms. Chong's experience is that she also served over a decade building directly in the field as a rep, then as a master distributor in a biotech company, to serving as a vendor consultant, as well as behind the scenes as the marketing director for a startup nutraceutical company then fell ill with health issues.
As a butterfly outgrows its cocoon, so did Ms.Chong and through her health journey she moved back into consulting and just when she thought she would never go back to the industry, the opportunity of a lifetime knocked. VYVO was one of her clients that would soon become an exclusive partnership.
Rina has this unbelievable positivity and creative vision, her well-rounded talent and  fresh approach to the field are what I believe will take us to the next level.
said Mr. Fabio Galdi, CEO, and Co-Founder.
We loved the direction she was taking us on so we made a unanimous decision to bring Rina onboard and we are extremely fortunate to have her on the team.
VYVO's mission in creating the first self-funded Digital Health Sharing Economy is a category creator in network marketing. Ms. Chong's role with the company will be overseeing the international markets bridging the gaps to create a VYVO united driving force for brand awareness, consumer growth and leadership empowerment.
"We have zero competition. Our company is in the absolute pursuit of creating the first self-sustainable economy through the advancement of 'technology' with an unprecedented worldwide venture – it's social protection through innovative biohacking.
She also explained that she will lead a dedicated international marketing team to create a worldwide unified customer experience opening up other markets to not only track their vitals in real-time but to help people better understand why they are putting what they're putting in their bodies.
Like most, I had a cabinet full of supplements, we call it blind nutrition, so what attracted me to the LifeWatch is that I can actually get the specific nutrients for my body based on my real-time vitals, not from a Facebook ad saying I need it or from some cookie cutter quiz. This is true precision health and it's helped me get back on track.
Ms. Chong profoundly refers to her family, past experiences and values that have kept her striving to be more and do more to help more people.
The vision and company culture is in direct alignment with my objectives, so saying that I'm ecstatic to be part of the team is a total understatement. I have finally found my home with VYVO and after meeting the entire team abroad, I have no doubt that together, we will dominate our hefty goals as the greatest company in precision health.
The Co-Founder and SVP of Events and Recognition, Mr. Alfonso Galdi, said with great enthusiasm,
We have been searching for someone like Rina, we know that when she believes in something, she's all in. We are very impressed with her leadership and are extremely excited for the future.
About VYVO
Vyvo is on a mission that has created a lucrative home-based tech opportunity empowering millions of people worldwide to maximize online revenue focused on precision health, prosperity, and economic well-being.
Members are continuously rewarded for wearing their Vyvo LifeWatch while effortlessly contributing their biodata anonymously to a unique Global Health Fintech Platform, enabled by patented Life Sensing Technology™ and secured by blockchain technology.
Vyvo is a Silicon Valley-based technology company that creates sophisticated wearable technology – proven leaders in innovation with devices that protects, monitors, and empowers people who seek an overall enhanced lifestyle. Vyvo's technology-driven mission has inspired the first self-funded Digital Health Sharing Economy where everyone can prosper. For more information, please visit Vyvo.com and join Vyvo's Facebook Community.