MLM Leader Kari Broy Joins QuiAri
July 22, 2021
By Team Business For Home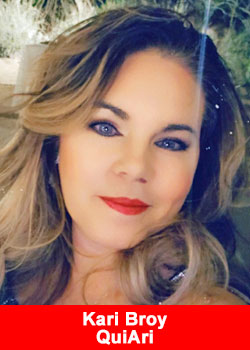 Kari Broy from Corona, California, always believed in the philosophy that hard work would help make all of her dreams coming true. After finishing school, Kari started her career in the mortgage industry as a Loan Processor. She had secured a good job, worked very hard, and had a bright future ahead, but something just didn't feel right.
"I was in my 20's working 12–14 hour days and commuting over an hour each way to get to work. All day long all I wanted to do was go home and take care of my son.

I thought to myself, this is really what society defines as 'success'? I had to get out of the rat race. In 2016, I joined the network marketing industry and I immediately loved it because I had more control over my life,"
stated Kari Broy.
Kari thrived in the MLM industry, and it provided her with more time to be a mother. She made every school play, helped with homework, and never missed a parent-teacher conference. Now that her son is older and more self-sufficient, her priorities have changed.
"I joined QuiAri for a very specific reason. I see a huge opportunity to secure his financial future, and potentially the future of my grandchildren. I was introduced to QuiAri by Hero Promoter, Sabra McCraw.

Sabra isn't the type of person to jump from MLM to MLM, so knew there had to be something special about QuiAri. Now I can say with confidence, there are MANY special things about QuiAri."
 Sabra sent Kari some samples and a link to QuiAri's Compensation Plan. All it took was one taste and she was 100% all-in.
"I have to love the products I promote. The chocolate and vanilla shakes were amazing. I have no idea how they got a 120 calorie shake to taste like melted ice cream – and it helped curb my appetite. The energy tablets worked great, too. No jitters. No crash. It just put me in a really good mood. When I looked over the compensation plan, I got really excited – and it wasn't the QuiAri Energy talking."
Designed by Founder and CEO, Bob Reina, QuiAri's compensation plan is one of the most generous in the industry. It is the first in MLM history to offer Same Day Pay – that's commissions paid in just 5 minutes anywhere in the world. Additionally, Promoters have an opportunity to earn bonuses quickly – some that trigger multiple times within their first 30 days. Top industry experts have said that QuiAri's compensation plan is responsible for creating a new industry standard and will serve as the gold standard for start-up companies seeking rapid global growth.
"I didn't expect anything less than the best from Bob Reina. Both Sabra and I have climbed the ranks at amazing speeds, and have been generously rewarded for our efforts. Bob has pulled out all the stops to give Promoters the best opportunity to build their businesses.

QuiAri ships products to over 200 countries worldwide and has translated everything from their opportunity presentation to product brochures in the top 6 most frequently spoken languages,"
stated Kari Broy. 
Kari also points to QuiAri's in-house team of I.T. experts that add to the seamlessness of welcoming new Promoters and Customers. Their website is easy to navigate, and the Back Office (known as Promoter and Customer Portals) provides them with real-time results and tracking.
"You don't have to be a computer expert to navigate through QuiAri's Portal – whether you're on desktop or the mobile app. Everything updates instantly, so it's easy for me to track my sales volume, who has joined, and get in touch with Support if I have any questions.

The most popular feature for my team is the "cha-ching" sound effect on the mobile app that goes off every time a commission is earned. It's a nice reminder of the frequent, passive income that you can earn instantly – even while you sleep."
In addition to having one of the top I.T. teams in the industry, QuiAri also has an executive leadership team with over 150 years of experience. As the first company in history to introduce Maqui to the international marketplace, this has helped expedite their global expansion plans.
"I can relate to people that were in my situation years ago – stuck in the rat race with big dreams, and no way to accomplish them quickly. I enjoy helping them, because it's my way of paying it forward. Somebody once gave me an opportunity to prove I could be successful and I'm still extremely grateful for it,"
said Kari Broy.
About QuiAri
QuiAri is the #1 health and weight loss movement in the world today. Featuring exclusive, breakthrough products (QuiAri Shake and QuiAri Energy) featuring the world's new #1 superfruit, the Maqui berry, people everywhere are losing weight, boosting their energy levels, and improving their health. What started as an idea has now become a worldwide phenomenon, gaining a passionate following in over 200 countries.
But that's not all! We boast an exciting opportunity to promote QuiAri products and earn commissions within 5 minutes after each sale through industry-first, state-of-the-art payment technology. Combining unrivaled products with the fastest payout, the fastest cycling binary, and one of the highest paying compensation plans in the industry, there's no doubt QuiAri is helping people live healthier, happier lives. To learn more, please visit quiari.com.
These statements have not been evaluated by the Food and Drug Administration. These products are not intended to diagnose, treat, cure or prevent any disease.
Income Disclosure Statement
Please note the QuiAri business opportunity offers unlimited income potential. However, QuiAri makes no guarantee of financial success. Success with QuiAri results only from successful sales efforts, which require hard work, diligence, skill, persistence.
Recommended Distributors QuiAri