Rising Star Angel Nguyen From Vietnam Joins QuiAri
July 8, 2021
By Team Business For Home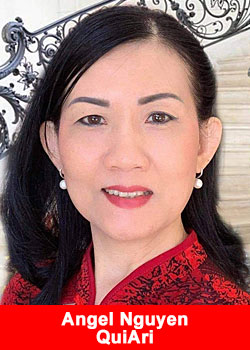 Angel Nguyen from Vietnam, not only dreams big, she makes them come true. When she wants something, she finds a way to make it happen. When she had a dream to move to America and work in the health and beauty industry, that's exactly what she did.
Even through all her hard work and determination in the salon industry, Angel quickly caught on that MLM is truly the vehicle to make her dreams a reality.
"I've tried jobs in other industries, and I didn't enjoy any of them. Making people look and feel their best is what makes me happy. The salon has been my dream job.  I've made lots of close friends and I enjoy all of my clients, but the pay will never get me to my dream lifestyle. Some people are okay living an ordinary life, but I wanted more," 
stated Angel Nguyen.
She discovered the MLM industry through a friend who recommended her to several companies that sold beauty products. While this helped Angel earn extra income, the "user experience," how a company cares for its Promoters and Customers, wasn't up to Angel's standards.
"At the end of the day, I felt like just a number, not a person. I found many of the compensation plans to be confusing. QuiAri was a completely different experience. Everything was simple, understandable, and manageable, which I loved.

When I tried the products, I felt lighter and more refreshed – like I just let go of a 20-pound backpack – and I was sleeping better. Usually, products have 1 or 2 benefits, so I was really surprised when I experienced way more."  
QuiAri Shake and Energy contain the world's new #1 superfruit, the Maqui Berry. The Maqui Berry has more antioxidant power than any other previously known superfruit on and supports and promotes:
A Strengthened Immune System
Weight Loss
Increased Energy Levels
A Healthy Inflammatory Response
Anti-Aging
Total Body Cleansing
Healthier Skin
Ocular (Eye) Health
Cardiovascular System Health
Healthy Blood Sugar Levels
QuiAri Founder and CEO, Bob Reina, arranged a meeting with the world's #1 Maqui Berry scientist, Dr. Juan Hancke to develop a proprietary MaquiX® extract that enhances the antioxidant power of the berry ten times. The result of their collaboration was breakthrough products that were unlike anything else in the industry. This presented a unique opportunity for Promoters, like Angel, that could not be ignored.
"There is only one place to get these amazing products – and it's QuiAri. Promoters from all over the MLM industry are joining the company for this very reason. The products are in high demand all over the world. Who wouldn't want in on this incredible opportunity to help people?

I really admire Bob for putting people first. I was happy to see the QuiAri compensation plan packed full of generous incentives. For example, Same Day Pay, that's commissions paid in just 5 minutes around the world, is, without a doubt, the most impressive because no other company pays that quickly. He has gained a lot of respect from people in this industry, and that makes building my business so much easier,"
said Angel Nguyen. 
Angel also noted that QuiAri's culture is built around teamwork and success. She has never felt more supported by the leadership team as compared to other companies she has worked for.
"My upline has been very responsive in helping me succeed. They go deep and explain everything from product benefits to generating new leads, and of course QuiAri provides videos and presentations that make it so easy. We run like a well-oiled machine." 
After only a short time with QuiAri, Angel is on track to become one of QuiAri's top earners. She has recently advanced to the rank of "Rock Star," and plans to go all the way to the highest rank: Purple Diamond.
"QuiAri is growing so rapidly. It's hard to believe that in less than 2 years QuiAri products are already in 200+ countries and counting. The amount of people we're helping is mind-blowing. I'm dedicating all of my time to growing my business. I never thought my passion for helping people could lead to my dream lifestyle."
About QuiAri
QuiAri is the #1 health and weight loss movement in the world today. Featuring exclusive, breakthrough products (QuiAri Shake and QuiAri Energy) featuring the world's new #1 superfruit, the Maqui berry, people everywhere are losing weight, boosting their energy levels, and improving their health. What started as an idea has now become a worldwide phenomenon, gaining a passionate following in over 200 countries.
But that's not all! We boast an exciting opportunity to promote QuiAri products and earn commissions within 5 minutes after each sale through industry-first, state-of-the-art payment technology. Combining unrivaled products with the fastest payout, the fastest cycling binary, and one of the highest paying compensation plans in the industry, there's no doubt QuiAri is helping people live healthier, happier lives. To learn more, please visit quiari.com.
These statements have not been evaluated by the Food and Drug Administration. These products are not intended to diagnose, treat, cure or prevent any disease.
Income Disclosure Statement
Please note the QuiAri business opportunity offers unlimited income potential. However, QuiAri makes no guarantee of financial success. Success with QuiAri results only from successful sales efforts, which require hard work, diligence, skill, persistence.
Recommended Distributors QuiAri