Nina Salkic Achieves Double Black Rain Diamond Rank At Rain International
October 22, 2021
By Team Business For Home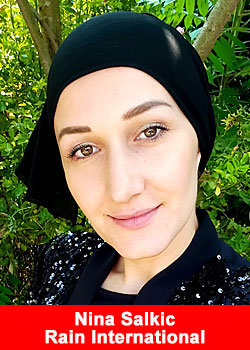 It isn't very often that an individual climbs to the lofty heights of Diamond in a Network Marketing company, and it's even less often that that individual continues to climb into the double diamond ranks.
But, Nina Salkic, an incredibly powerful Rain Partner at Rain International, has done just that. She has become the newest Double Black Rain Diamond at Rain International.
Nina Salkic is a Bosnian based Rain Partner and has been making waves at Rain International ever since she decided to make her decision to join Rain.
She's been especially impressive as we look a little more closely into when she's grown the most: right in the middle of the pandemic.
In fact, it was at the pandemic's highpoint that Nina started hitting higher ranks at Rain. She learned, adapted, flexed and came out incredibly successful. And, although life seems to be getting back to normal slowly, Nina continues to push and build and grow her team with exceptional speed and impact.
She has truly shown what it means to be a leader.
When speaking about Nina, the Founder and CEO of Rain International, Byron Belka, said:
"She is a leader. Through and through. She sees each Rain Partner that comes into her team for the individuals they are, and has an uncanny ability to see who they can become.

This is why she's been able to create such a large, multi-country team who works together, is self-sustaining, and works together towards a greater goal.

We can attribute much of our recent growth to Nina, her team, and her positive outlook on team building. She deserves the rank of Double Black Rain Diamond. We can't wait to see what she does next."
At Rain's most recent event, Ascend, Nina addressed their entire distributor base. She mostly talked about what it meant to be a good leader:
"Leaders must provide opportunities for others to grow into leaders themselves. You must push people to work. Show them how to help people and how to make money.

Push them into situations where they have to lead. Leaders are there to clear the way for others. Not necessarily to be nice or loving.

You must be bold, clear and to show them the way. I will say that where I am wasn't easy. In fact, it was fairly difficult. But, it was certainly worth the pain."
Success isn't flashy. It isn't material. It's deliberate and it's people-focused.
Nina is a perfect example of this, with a growing organization that continues to pick up momentum as evidence. Congratulations to her and this wonderful achievement. We can't wait to see how quickly she climbs to the next rank.
About Rain International
Rain International is the original creator of seed-based nutrition. Our experts have gone to the source of plant nutrition to formulate products proven to support healthy lives. Rain International is more than the products we sell.
From the beginning, we set out to make changes to improve the world around us starting with the health industry and moving beyond its borders into global sustainability, education initiatives, elevated lifestyles, and more.
We believe that the ultimate human experience we all crave is within everyone's reach, and we don't mind leading the way. For more info please visit www.rainintl.com.
Recommended Distributors Rain International