Kristen Gonzalez From One Time MLM Hater To Seven Figure Top Earner
October 24, 2022
By Team Business For Home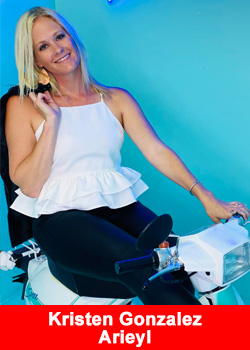 After working door to door sales in college, Kristen Gonzalez swore off any form of direct sales to focus on her teaching career.
But after three years of teaching third graders, Kristen found herself
"burned out, tired, fluffy and crying daily because (she) just wasn't happy. Financially I was a hamster in a wheel; I could never get ahead.",
Kristen said.
Confiding her struggle to a close friend ended up changing her life.
"My friend told me about some products", she said, "but I was skeptical at first. I didn't want another job, I was stretched already"
But the products ended up helping and she was hooked, replacing her full-time salary in only four months. Enter a worldwide pandemic and everything changed. Moving from Orlando, Florida to Texas in February of 2020, one month before the birth of her second child, Kristen found herself working from home with two young children and battling ongoing bouts of crying in her bedroom closet.
"I knew I needed something to support my mental health but I didn't want to go on any prescription drugs so I began searching for a product that was holistic and natural. The first thing I tried was Arieyl's 1500mg Watermelon Mojito with CBD and CBG and I immediately became me again",
Kristen said.
"That sense of peace, happiness and calm coming from a natural source, I had to share it with everyone."
After one Zoom meeting with the Butlers, Arieyl's founders and co-CEO's, Kristen was all in even if it meant leaving her current company behind and starting over from zero.
"I saw Travis and Kristen's heart, saw their passion and excitement, saw something new I could be part of from the very beginning and I knew Arieyl was going to do big thing. I'd built a multi-million dollar team from nothing once, I knew I could do it again."
That is exactly what Kristen did, twice. In a few short months, she and her husband Manny both achieved the rank of Diamond, making them an Arieyl double Diamond household. Kristen rediscovered her fulfilment, helping people with their mental health by offering them natural options with "the cutest branding and most down to earth people in the industry" she said.
"The last two years have been such a healing journey for me, watching my mess turn into my message. Before, I felt like just a company or a product; but now, I feel like myself with these amazing products complimenting who I am"
Kristen said. And who is Kristen? A true Rockstar. Congratulations Kristen, your Arieyl family is incredibly proud of you.
About Arieyl
From Food Stamps & Foreclosure to Financially Freedom. Kristen and Travis Butler, top earners in the industry decided to create an opportunity for people just like them to live out their craziest dreams.
With our fast paced, busy lifestyles we give you the flexibility to grow a successful business at your fingertips. Arieyl is more than just creating a source of income, it is about creating your best life! Getaway with our fun incentive trips and spoil yourself with prizes you'd probably never splurge on.
For more information please visit www.arieyl.com
Recommended Distributors Arieyl