Arieyl Bold Statements At The Rockstar Rising Convention
March 1, 2023
By Team Business For Home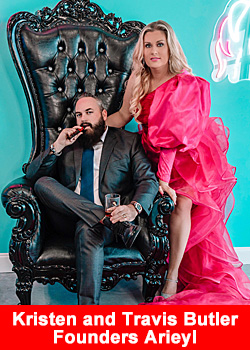 "We have given you everything. I promised we would make your lives easier. We got the app, the Look Book, Rock for Free, the Audition. I said you could attract and retain your customers.

We have the Subscription, new products, VIPs now have referral links. I said I would help you make more money and we made it easier to rank up, elevated QV, VIP royalty residuals. It's now up to YOU. We've given you all the tools, it's now for you.",
said Kristen Butler, co-CEO of Arieyl, on February 12th at the close of their second annual convention, Rockstar Rising 2023.
Bold statement but, coming from leaders consistently pushing the envelope in what can and should be done for those in the network marketing industry, it's certainly a refreshing sign of what's to come.
Arieyl's convention weekend unleashed new ways of not only successfully running a team but also attracting others who caught the vision long ago but burned out on the old, tired ways of doing it. With the pandemic in the rear view mirror, it's time to get network marketing back to the face to face, relationship driven example the industry thrives on.
One of the powerful tools Arieyl's Rockstars received was the cutting edge MyArieyl app, which allows them to utilize an ever growing selection of content to connect with their community beyond the constraints of social media platforms.
Featuring Live Selling, the MyArieyl app allows potential VIPs to simultaneously engage with live content while shopping featured products. The app also allows customization of uploadable content so that Rockstars can best display their personal brand as well as highlight their favorite products with direct, clickable links to streamline the shopping experience.
Using simple tech to build relationships, the secret to the Butlers earning more than $7 million in 3 years, is best displayed in the MyArieyl app's "Look Book".
Though the beautifully styled, 18 page PDF can be printed out and shared, the heart behind its inception is to be cast from the app to a home television where friends are gathered to sample some of Arieyl's 70 plus product line as well as learn more about the Unicorn company's ground breaking opportunity.
Featuring real Rockstars from every walk of life, it's easy for anyone to see themselves locking arms with the fast-growing industry startup.
And this is where the new "Audition" steps into Arieyl's spotlight. By simply providing an email address, hopefuls will secure their place in a "Tour Manager's" organization, allowing the auditioner 7 days to decide if they have what it takes to be a Rockstar.
During the audition, potential Rockstars will learn about all things Arieyl, including the Amplified Compensation Plan now with 12 ways to get paid.

Subscriptions that boast dollar for dollar Rank qualifying volume, VIP referral links which generate Arieyl Bucks loyal fans can exchange for favorite products, Royalty Residuals paid on VIP purchases regardless of their Binary position, how to Rock for Free and maximize the new Influencer program.
Know any Influencer? Arieyl has a seat at the table waiting for them! Once approved, Arieyl Influencers are provided with a link to the products their audiences will love, enhancing the experience of social selling as well as roaring into a lion's share of commissions without building a team.
Arieyl has zero love for hyenas, picking the bones of less than 5% commissions, which is why Arieyl pays 25% to 35% based on following and the Rockstars who discover these superstars will reap the rewards.
As Travis Butler closed out Rockstar Rising 2023, he said
"If you don't do it now, with everything we've given. I told you in the beginning, it's time to quit, move on with your life. But if you want to freaking run and you want to climb that damn mountain, do it with us."
The best is yet to come.
About Arieyl
From Food Stamps & Foreclosure to Financially Freedom. Kristen and Travis Butler, top earners in the industry decided to create an opportunity for people just like them to live out their craziest dreams.
With our fast paced, busy lifestyles we give you the flexibility to grow a successful business at your fingertips. Arieyl is more than just creating a source of income, it is about creating your best life! Getaway with our fun incentive trips and spoil yourself with prizes you'd probably never splurge on.
For more information please visit www.arieyl.com
Recommended Distributors Arieyl