Streakk Has Grown To 1,2 Million Customers And Distributors
April 5, 2023
By Team Business For Home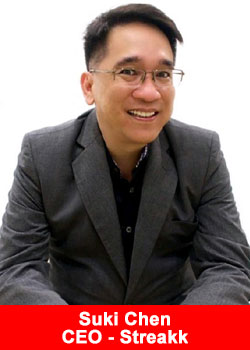 According to a Streakk press release:
The Streakk Fest is a festival by Streakk covering 15 countries in Asia, Europe, and Africa.
Through the Streakk Fest, the CEO and founder of Streakk, Suki Chen, aims to bring the business to mass adoption to grow their already 1,2 million community.
It is also a fantastic opportunity for streakkers to meet like-minded individuals who have big ambitions, are passionate, and are not afraid to work to reach their dreams.
After a successful tour in November 2022, Streakk is coming back to Europe, adding France to the list of countries to visit, and to teach more people about their amazing and cutting-edge technology, which allows users to earn on crypto without losing custody.
Streakk visited 4 countries in Europe during its Streakk Fest. It covered:
France
Poland
Austria and
Germany
Streakk is all set to have its final festival in London on April 8. These 4 countries welcomed more than 5,000 leaders, including the top earners in the Direct-Selling industry.
Europe, with a population of over 740 million people, is a massive market to be in. This expansion is a great opportunity to tap into the region's great potential and gain a strong presence. Streakk's entry into Europe will further facilitate increased growth and improved value in the future.
On March 19th, Streakk arrived at the at Le Meridien Etoile in Paris, where the CEO was greeted by people from all over France eager to learn about the company's latest upgrades and what the future holds for both old and new streakkers. During the event, the CEO spoke on the latest developments of the company and how Streakk is well-positioned to unlock crypto opportunities for users around the world.
Another massive event was held in Warsaw, Poland, on March 26th, and the CEO spent two days meeting with top achievers, top leaders, and 700+ new Streakkers eager to learn about Streakk's amazing project. After that, another event was held on March 29th in Salzburg, Austria.
On April 1st, the company held one of the biggest events in Streakk Fest at the Leonardo Royal Hotel, Frankfurt, Germany, where hundreds of Streakkers gained insight about the project's vision and mission.
Streakk is also set to hold another event on April 8 in London, U.K. The CEO is looking forward to meeting the top leaders and learning from their experiences.
"We are expecting industry executives, government officials, consumer leaders, academics, and other stakeholders from all over the world to come to gather to exchange ideas and learn from each other in order to reimagine our industry and unveil some transformative initiatives that we have undertaken regarding Advocacy, Ethics, and Regulatory issues."
stated Suki Chen.
One of the key points the CEO is making during this magnificent Streakk Fest is to encourage people to achieve the Exotic Thailand Promotion, a two-month team achievement promotion that will take Streakers to the magical Southeast Asian country and where some incredible news will be dropped.
About Streakk
Streakk is a leading technology platform that is focused on creating the future of finance by maximizing the potential of crypto. The company has a very solid background, as it's been spearheaded by a very reputed entrepreneur with over 30 years of experience.
Streak provides a stable passive income for its users to grow their portfolio with stable staking rewards from over 20 cryptocurrencies. Users can hold crypto in their wallets and earn up to 30% rewards. They can also add or withdraw funds anytime, anywhere.
For more information, please visit www.streakk.io.
Recommended Distributors Streakk