Industry Leader Shelbi Kautzsch Joins Beyond Slim
May 4, 2023
By Nicole Dunkley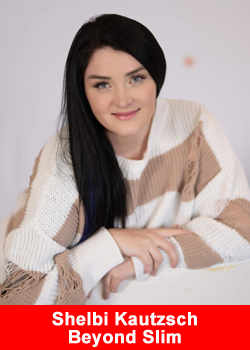 Sometimes you meet someone that immediately inspires you to try harder and be better. This is true of Shelbi Kautzsch; a US Army Veteran and mother of five, multi-million-dollar business owner and Beyond Slim Coach.
This powerhouse is already a seven-figure earner in the industry and is only a few years in. Even more impressive is her industry-wide team sales have already reached eight figures.
To say she has achieved a lot in the industry is an understatement and Beyond Slim® is thrilled to welcome such a dynamic leader to the team. 
Achieving top ranks at Beyond Slim in just 60 days is impressive, but to then reach the highest rank yet in Beyond Slim, Gold 7 in 120 days, is record breaking.
Driven by ZipSlim®, the clinically proven wellness and weight loss product, she quickly gained the momentum needed for her team to do a whopping $3.1 million   in team sales in only five months. 
A driven and passionate woman by nature, Shelbi started her first business at just 22 years old, and now has not one, but seven businesses. Surprisingly, she still has the passion to do more and help others. Her motivation stems from the love of her family and the desire to leave a legacy for her five children. 
Lacking no ambition, Shelbi found herself on a journey to find a product that would help the masses, with a focus on health and wellness and had a solid reputation in the industry.
An immediate standout was Beyond Slim, a company that was already highly regarded by her peers, had an incredible scientifically backed weight loss product with rave reviews, and aligned with her values. 
Shelbi admits,
"I was a little nervous to try ZipSlim because I read the ingredients and wondered how something so healthy could also taste good?

But it was great, and I felt like my body immediately craved it.

ZipSlim helped to reduce my cravings, increase my energy, and helped me lose weight."
Experiencing such incredible results herself, she couldn't wait to share ZipSlim with her 1.2 million followers on social media and start helping others achieve results themselves. 
Beyond Slim continues to impress her with the incredible leadership of CEO, Ray Faltinsky, and VP of Sales, Rachel Kellogg.
Shelbi said,
"Ray and Rachel have great energy, and I feel like my voice is heard and my input is valued,"
which was a non-negotiable requirement for Shelbi. She needed her team to have a comp plan where everyone could win and that would serve the 90% who are part-time in direct selling.
Since Beyond Slim's revolutionary comp plan was designed to serve the 90%, they have had no problem delivering on that commitment.  Shelbi has learned valuable lessons along the way and her experience and dedication has helped set her up for a strong start with Beyond Slim.
She is excited to share her experiences with others and attributes her success to her strong values and believes you should never let your circumstances hinder your success. With an incredible product and amazing company supporting her, Shelbi couldn't go wrong with Beyond Slim. For these two, slowing down just isn't an option!
Recommended Distributors Beyond Slim