Lovvare: A New Holistic Wellness Company
May 12, 2023
By Team Business For Home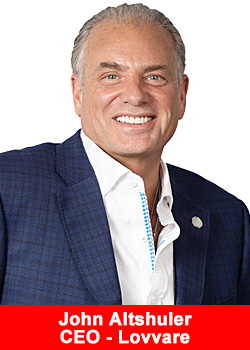 Lovvare means "to love" in Italian/American slang. The company was formed by a small group of extremely successful individuals who wanted to create something special so they could love what they do while empowering others to do the same.
The idea was to find relevant holistic wellness solutions, develop a lucrative compensation plan which rewarded all levels of entrepreneurs (newest to veteran) while having it all sit on top of a revolutionary technology which they controlled. They didn't want to be at the mercy of third party vendors which required an extreme amount of time and money to scale or upgrade as they grew their company.
Led by their CEO, John Altshuler, a seasoned entrepreneur with over 30 years of experience developing and launching multi-million-dollar revenue generating products for the B2B and B2C marketplace. John has been involved with Direct Sales/Network Marketing since 1986 and played roles primarily in the field with three C-level positions.
Most recently John was Master Distributor taking a company from $0 to $4 million a month in 2+ years, has held the position of COO, consultant, technology project manager, compensation plan designer, trainer, presenter, and face of the company in multiple organizations.
"We are focused on helping others create their own story and journey for freedom.  Our mission is to empower one million passionate individuals to share their LOVVE for Lovvare with friends, family, and anyone looking to live their best life.

We are a culture that thrives on not just "loving what we do" but how fiercely we love others while supporting wholeness, happiness, abundance and FREEDOM in households all around the world.

We live by the fundamental understanding that anyone can rise and accomplish their biggest aspirations if they are loved in leadership. By harnessing the magic of proven systems, strategies, and putting the right tools in your hands you can cross that bridge from "Want" to "Can"!"
said John Altshuler, CEO of Lovvare
Technology can build or be the downfall of a company. Competition is not other direct selling companies but other technology driven platforms such as Amazon, Google, Shopify, Artificial Intelligence and Virtual Reality. One challenge in the direct sales industry is combining high tech with high touch while keeping their community in control of the conversation. Lovvare believes the only way to assure this happens is building their own USA based technology which has been accomplished in a short period of time with daily updates and improvements in real time.
Lovvare's CTO, Orkan Arat, is also the founder of Plondo Network Inc., a marketing tech juggernaut who has been a leader in the lead generation industry for two decades. He has also launched several successful entrepreneurship ventures. Orkan brings a mix of leadership, technology expertise, and marketing know-how that transcends industries.
While technology is important, if the products can't stand on their own and serve a specific purpose with little competition then a company can be destined to be labeled as another "me too" lineup. Lovvare's focus is on wellness solutions to help Revive, Restore and Replenish the body with earth based ingredients such as Nano-Silver, Golden Fulvic Minerals, Marine Collagen and more on the way.
Lovvare's new VP of Sales & Marketing, James Leonhardt, comes with 22 years of experience in Home Based Business, Direct Sales, Digital Marketing, Brand Development and Creating Simplified Systems for Duplication.
He has built many large organizations of distributors and customers, launched several companies throughout various sectors, provided consulting services to C-level executives and has held corporate leadership positions throughout his career.
"I partnered with Lovvare to develop a company where everything was aligned to empower the newest generation of online entrepreneurs to the seasoned business professional.
New partners need systems that are easy to learn and seasoned professionals want leadership in place they can depend on for support. At Lovvare we build everything from the top down so the only activity anyone needs to focus on is one thing: Share the Love, Earn Rewards. It really is that simple."
About Lovvare
Our Story began with discovering the keys to overcoming the obstacles of health in our personal lives. With an understanding that restoring our bodies starts with the digestive system, our goal was to develop a simple, yet effective program that naturally cleanses the body, without adding more of a workload on the body, and using only the highest quality ingredients that are free of any chemicals, fillers, or toxins.
Lovvare officially opened their doors to take online orders from Brand Partners and Customers on April 10, 2023 and are now fully supported by their own in-house technology platform. To learn more about Lovvare contact one of our Brand Partners or visit www.Lovvare.com
Recommended Distributors Lovvare