MyDailyChoice Introduces Newest Brand Partner ICAN Mind and Body, Into The MDC Marketplace
July 19, 2023
By Nicole Dunkley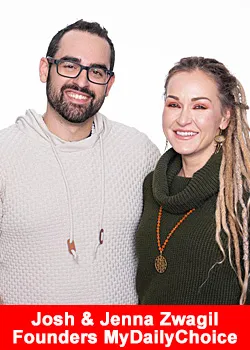 In the quest for losing weight and keeping it off, the missing key often lies within our minds.
Recognizing this, The ICAN Institute has introduced an innovative app called ICAN Mind and Body, which combines neuroscience-based tools, training, and daily support to empower individuals in their journey towards self-motivation, a positive mindset, and healthier choices to reach their weight loss goals with more ease.
The ICAN Institute has joined forces with the MYDailyChoice Marketplace in an exciting development, making ICAN Mind and Body readily accessible to a wider audience. With just 10 minutes a day, individuals can embark on a transformative weight loss and wellness experience, fostering long-lasting results.
Harnessing Neuroscience for Sustainable Weight Loss and Wellness
ICAN Mind and Body utilizes neuroscience-based techniques to equip its members with the tools they need to motivate themselves, reframe negative thoughts, and make healthier choices in any circumstance.
By understanding how the brain works, ICAN MInd and Body empowers individuals to reshape their mindset and overcome lifelong thoughts and habits that may hinder their progress.
Through the ICAN Mind and Body app, users gain access to a range of cutting-edge mindset tools and resources that leverage neuroscience to foster transformation.
Daily Power-Ups for a Strong Start and Goal Alignment
One of the core features of the ICAN Mind and Body app is the Daily Power-Ups, a series of 5 to 7-minute training videos designed to kickstart each day with energy and inspiration.
These bite-sized videos serve as a motivational boost, encouraging users to stay focused on their goals and make positive choices. Individuals can set the tone for a productive and successful day by dedicating a few minutes every morning, reinforcing their commitment to a healthy lifestyle.
Brain Training for Deep Dives into the Mind-Body Connection
In addition to powerful weekly live group coaching, every two weeks, the ICAN Mind and Body app offers users a 20-minute brain training session centered around a key pillar of the mind-body connection.
These sessions delve deeper into understanding the intricate relationship between the mind and your weight loss journey, offering insights and techniques to optimize well-being and foster healthy habits.
By exploring various aspects of the mind-body connection, users can unlock a deeper level of self-awareness and make informed choices that promote lasting health and weight loss.
ICAN Neuro Tools for Sustained Success
Sustaining healthy habits can be challenging, especially when faced with tempting situations or stressful moments. To address this, the ICAN Mind and Body app provides users with ICAN Neuro Tools, proven and easy-to-use daily exercises that enhance adherence to any diet, wellness program, or lifestyle habit.
These tools act as companions on the journey, offering support, guidance, and strategies to overcome obstacles and stay on track. By leveraging these Neuro Tools, individuals can cultivate resilience, maintain focus, and achieve long-term success in their health and weight loss endeavors.
The combination of ICAN Institute's ICAN Mind and Body app with the MYDailyChoice weight loss and wellness products marks a significant step forward in the realm of sustainable wellness. By incorporating neuroscience-based tools, training, and daily support, the app empowers individuals to motivate themselves, reframe negative thoughts, and make healthier choices, leading to lasting health and weight loss results.
With its convenient 10-minute daily commitment, MINDpower offers a practical and effective solution for individuals seeking transformative change in their lives. Embrace the power of your mind and explore the possibilities that ICAN Mind and Body holds for your well-being.
About MyDailyChoice
MyDailyChoice is a marketplace where you can discover new brands, shop for your favorite products, and empower your entrepreneurial spirit. Founded by two dynamic entrepreneurs, Josh & Jenna Zwagil, who had a desire to empower individuals by eliminating obstacles and fostering positive change. For more information please visit www.mydailychoice.com
Recommended Distributors MyDailyChoice